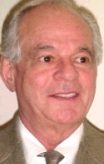 Thomas A. Houle, Ph.D. is a retired licensed clinical psychologist and a licensed clinical social worker in the state of Connecticut.
He holds a BS from the University of Minnesota, an MS from the University of Wisconsin, and a Ph.D . from Michigan State University. He also has a post­doctoral MS in clinical psychopharmacology from the Massachusetts School of Professional Psychology.
During his extensive career in psychology, Dr. Houle has had a wide variety of professional experiences.
He's worked in various treatment facilities, including a women's correctional facility, a veterans' administration hospital, a mental hospital, and a residential treatment facility for children. In addition, he's been a professor of psychology at the university level
And he has conducted a decades-long private practice in clinical psychology.
He has written broadly (and continues to write) on psychological issues.
His most current work focuses on human relationships and their contribution to psychological problems, including mental illnesses.